2022 Chevrolet Bolt EV near Inland Empire CA for Sale in Chino, CA
2022 Chevrolet Bolt EV near Inland Empire CA
View Inventory


Located near Inland Empire, CA, M K Smith Chevrolet offers the 2022 BOLT EV for sale or lease. We will review the main highlights of this electric Chevy car that comes with several charging options.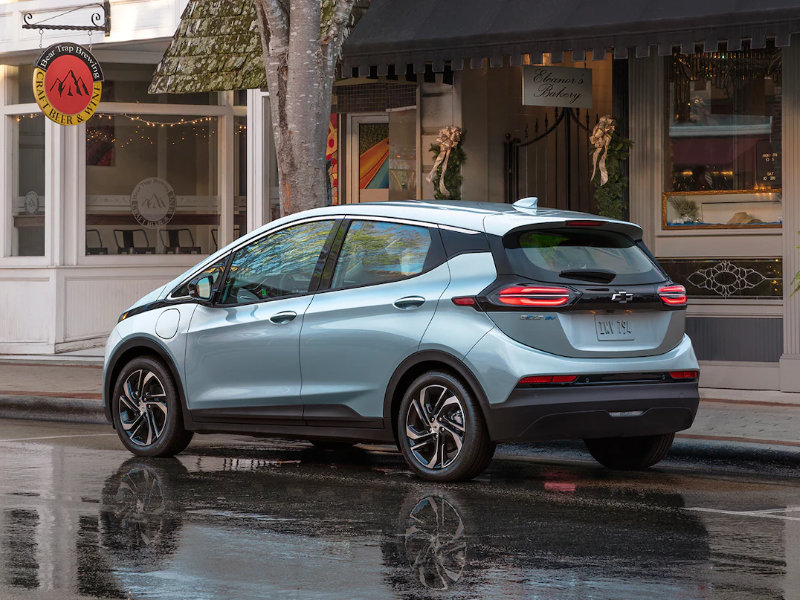 Exterior – Chevrolet Dealer serving Inland Empire CA
Customers from California who read the 2022 Chevrolet BOLT EV review should learn about the 17-inch Michelin tires that have the exclusive Energy Saver A/S design. Rated for all-season performance, these signature tires are connected to 17-inch alloy wheels. Having an overall height of slightly more than 63 inches, this small Chevy car maintains good balance on the ground. Coil springs and a torsion beam bolster the vehicle's rear chassis. Thanks to a compound-crank design, the lightweight body will maintain a consistent ground clearance even when the rear seats are fully occupied.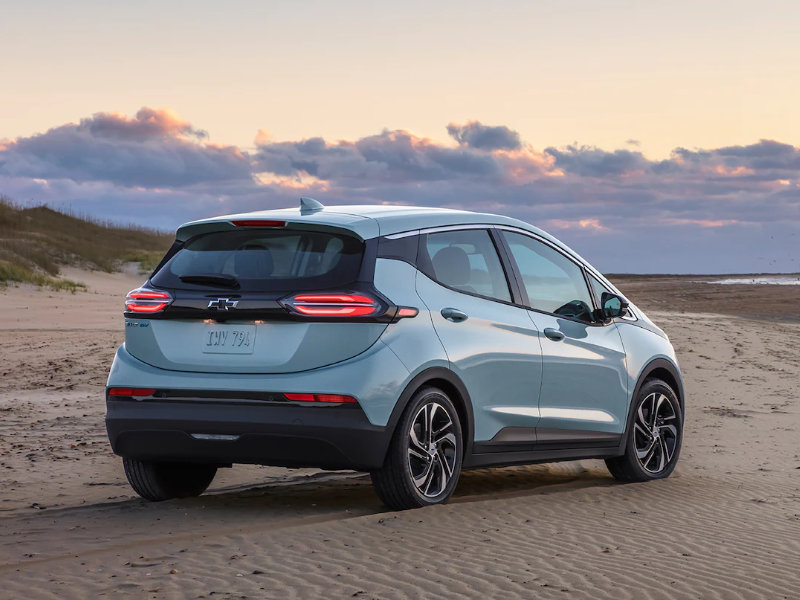 The 2022 Chevrolet BOLT EV offers slightly more than 44 inches of legroom in the front row. Approximately 55.5 inches of shoulder room and 51.5 inches of hip room are available in the first row. This electric Chevy hatchback offers just over 40 inches of headroom for the driver and front passenger. Serving Inland Empire Chino Glendora Ontario, our dealership reveals the car's maximum passenger volume of approximately 94 cubic feet. When the rear seats are folded, up to 57 cubic feet of cargo space is available. Otherwise, the standard cargo capacity behind the second-row seats is slightly less than 17 cubic feet. The 2022 BOLT EV also has state-of-the-art electronics inside its cockpit, like a 10.2-inch control panel that's slightly tilted for optimal visibility. Conveniently integrated into the infotainment system, Android Auto and Apple CarPlay eliminate the need for cables and wires inside the cockpit. Bluetooth, Amazon Alexa and a Wi-Fi hotspot by OnStar provide additional options for connecting smartphones with the General Motors-patented multimedia console. Additionally, the myChevrolet mobile application is fully compatible with this electric hatchback.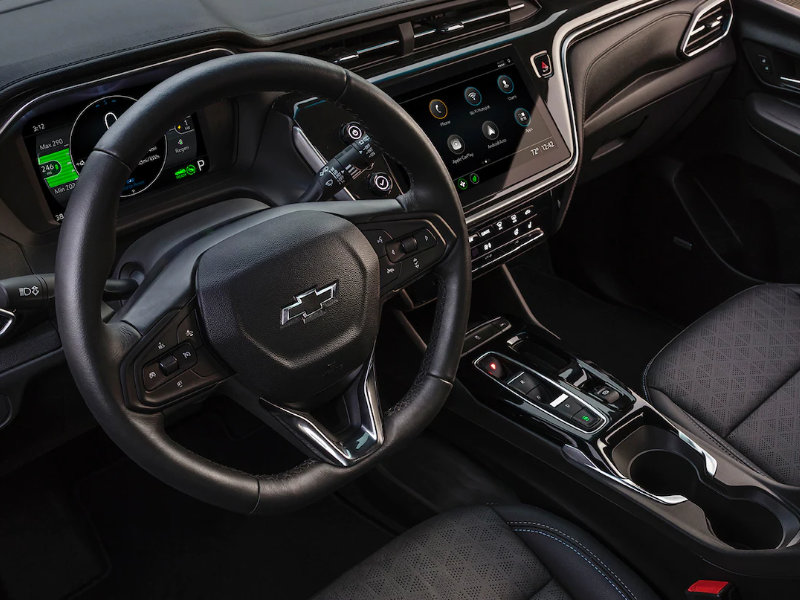 Chevrolet Bolt EV Mechanical specs
Our 2022 Chevrolet BOLT EV review provides great insights on the car's mechanical design. Using electro-hydraulic technology, the partially regenerative braking system offers a great combination of performance and efficiency. M K Smith Chevrolet encourages car buyers in California to check out the car's front brake rotors that measure 15 inches in diameter. These robust parts are controlled by an anti-lock braking system (ABS) for maximum stability on paved roads. Having a curb weight of just less than 3,600 pounds, this electric Chevy car is nimble and dynamic on the road. When measured from curb to curb, the car's turning circle is approximately 35 feet. Having an overall width of only 69.5 inches, the 2022 BOLT EV navigates narrow streets with ease.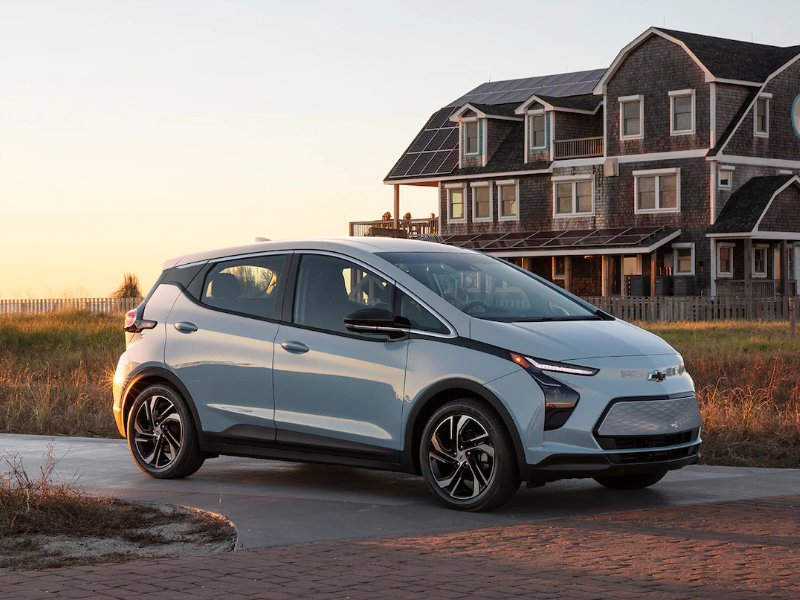 Powertrain – Chevrolet Dealership near Inland Empire CA
The 2022 Chevrolet BOLT EV is powered by a lithium-ion battery that weighs 947 pounds. Composed of 288 individual cells, the Li-ion battery generates 65 kWh of on-demand electrical energy. Generals Motors offers a limited 100,000-mile warranty on this durable propulsion system. This official warranty is valid for up to eight years for any qualifying repairs on the battery and other interconnected electrical parts. Capable of generating 150 kW, a single motor also propels this lightweight hatchback. Drivers who are more familiar with internal combustion engines will appreciate the 200-horsepower output of the motor. Serving Inland Empire Chino Glendora Ontario, we also reveal the motor's peak torque production of 260 pound-feet. Controlling a one-speed gearset, the magnetic-type motor creates a final drive ratio of 7.05:1. A fully charged powertrain can drive the 2022 Bolt EV for 259 miles on a paved road with normal traffic flow. The driving range increases by up to 4 miles for every 60 minutes of charging through a 120-volt power outlet. You will have to wait about 7 hours for a 240-v outlet to completely recharge the electric powertrain. If you're in a hurry, simply plug this Chevy electric car into the DC Fast Charging portal. Thanks to government subsidies and private ventures, you can easily find thousands of DC Fast Charging stations across the United States of America. The vehicle will gain up to 100 miles of driving range after only 30 minutes of charging. Our Chevrolet dealership gladly provides the Dual Level Charger option for the 2022 BOLT EV. This innovative charging technology is made by Qmerit, a high-tech company that's based in California. You can accelerate and decelerate by only using the accelerator pedal thanks to the latest energy-regenerative technology.
Safety – 2022 Chevrolet Bolt EV dealer
The Chevy Safety Assist is an important topic in our 2022 Chevrolet BOLT EV review. Serving Inland Empire Chino Glendora Ontario, we invite local clients to try all six active safety technologies from this standard package. For instance, the Following Distance Indicator discourages you from getting too close to another vehicle in your lane. The Front Pedestrian Braking puts you at ease on urban streets that have lots of crosswalks. When you're at risk of colliding with another automobile, the Forward Collision Alert produces the appropriate notifications. Capturing multi-angle images of the vicinity, the HD Surround Vision helps you park this electric Chevy car like a professional.
Serving car buyers in California, M K Smith Chevrolet offers test drives in the 2022 BOLT EV. We invite clients to try the 1LT and 2LT editions of this electric hatchback.