2020 Chevrolet Blazer Lease and Specials near Inland Empire CA for Sale in Chino, CA
2020 Chevrolet Blazer Lease and Specials near Inland Empire CA

*Not actual vehicle
2020 Chevrolet Blazer Lease Specials and Finance Offers in Chino CA – near Glendora, Inland Empire
Why Buy or Lease 2020 Chevrolet Blazer near Inland Empire CA
The announcement of the 2020 Chevy Blazer set off a wave of excitement and nostalgia in the industry. We all remember that old Blazer, its brawn, and its 80's boxy goodness. It disappeared for awhile, but now it's back, and this time it's an almost entirely new creation. Yes, it still has the "big things in small packages" muscle of the old Blazer, but it's much more refined these days. Maybe that's because it had a couple of generations of technology to catch up to in its debut. We invite you to learn about the all new 2020 Chevrolet Blazer. Is it the Blazer you remember or is it even better?
*Not actual vehicle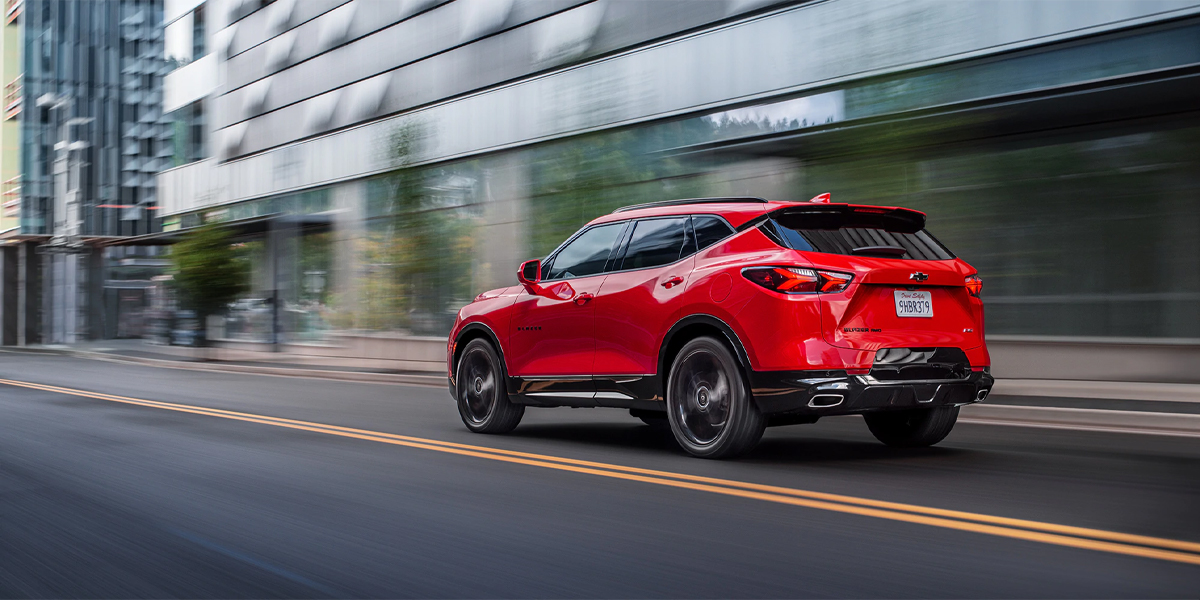 Exterior – Chevrolet Blazer
This is definitely not your traditional stone age Blazer. It's less boxy these days, as we'd expect to see in a modern vehicle, but it still has that old Blazer style and attitude. It's a mid-size crossover more closely modeled after the cars of the world than the trucks, but that doesn't mean it doesn't still have some serious off-road skills and definite flash. The L's standard equipment includes bright 18-inch wheels and xenon headlamps. And that's just to kick things off. Your 3LT is armed with a power liftgate, black roof rails, and even has remote vehicle start, so you can control your attractive Blazer from a distance now. It's an advanced look and style for a very classic new vehicle.
*Not actual vehicle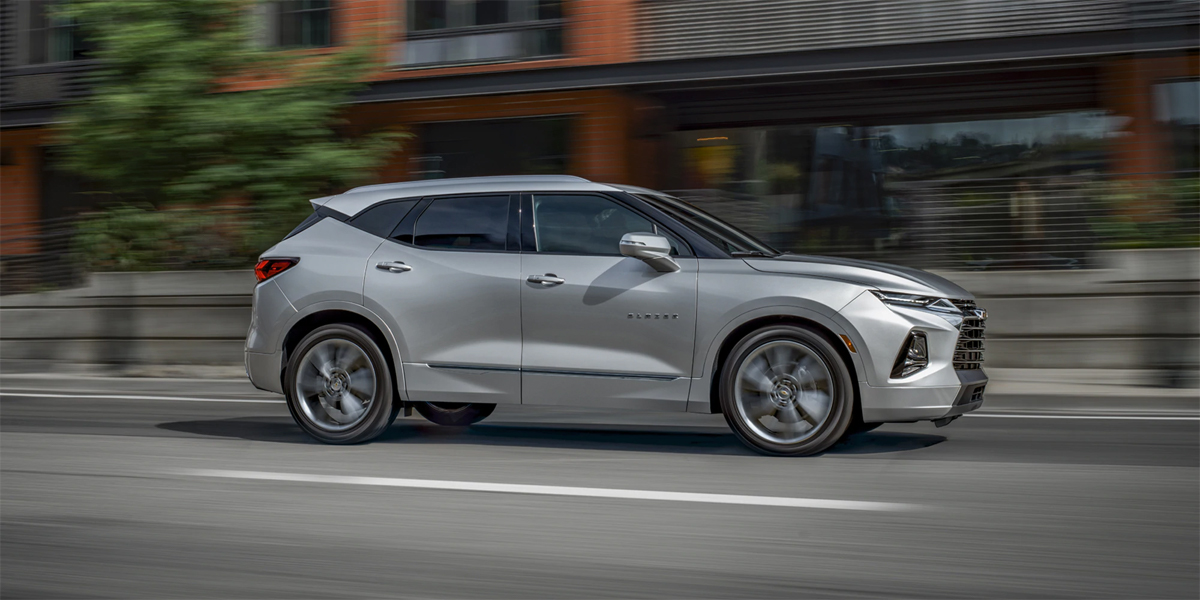 Interior – 2020 Chevrolet Blazer
Chevrolet wanted the new Blazer to be heavily slanted toward the dramatic. They wanted nothing ordinary and everything extraordinary. They accomplished that by giving you beautiful leather-trimmed seating options, ventilated front seats, and ambient lighting (of all things). It's like Chevrolet read everyone's minds when they created the new Blazer. Why outfit it in the same old thing or go rustic when you can simply give your loyal Chevy fans everything they want in a mid-size crossover? If you have a penchant for the dramatic just like the Chevy Blazer, you're going to get along with it just fine. There's a diva spirit on this crossover, and we love it (and if it could, it'd love you, too).
*Not actual vehicle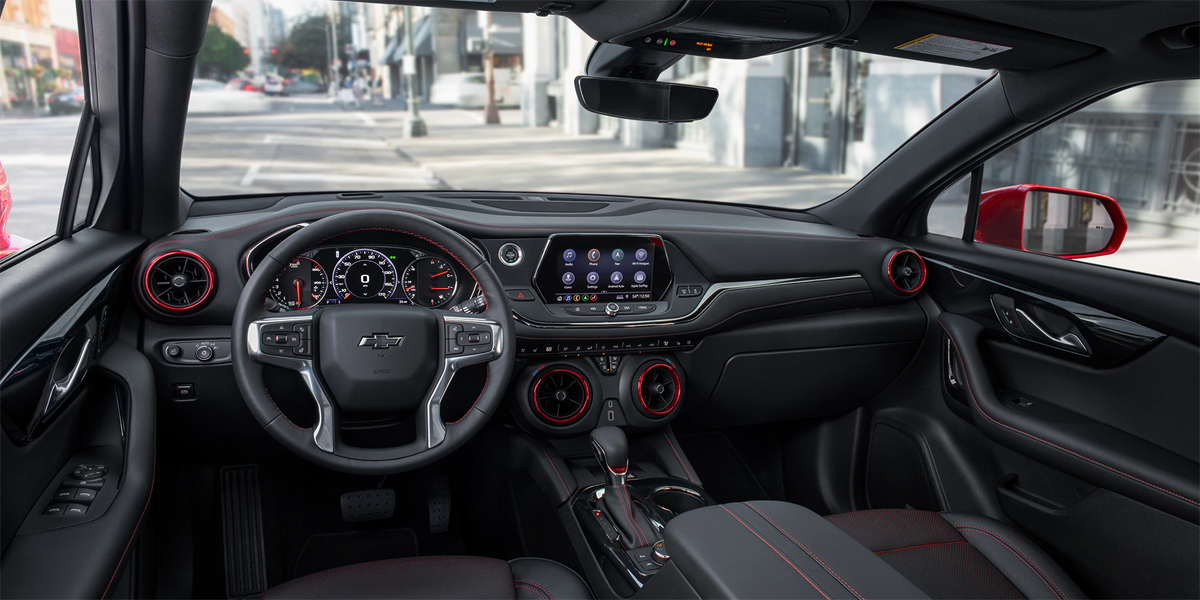 Mechanical – 2020 Chevrolet Blazer
The RS and Premier sport the old Blazer power in the trim lineup. While other trims definitely aren't underpowered, if you want that authoritative zip of the old Blazer, these are the two trims to look at thanks to their 3.6-liter V6 engine. It's rated at 308 horsepower and 270 lbs-ft of torque. For a mid-size model, the Blazer is still on the smallish side, so you can really appreciate just how much fun it is going to be to have the smaller body with a hugely powerful engine. It's the kind of driving fun you won't find on any other model in this class. A 193 horsepower and 230 horsepower option are also at your fingertips. Front wheel-drive and a standard 9-speed automatic transmission are a powerful duo on the Blazer, but you can upgrade your engine to grab all-wheel drive as well. Many people will want to take advantage of the Blazer's still legendary all-wheel drive capability.
*Not actual vehicle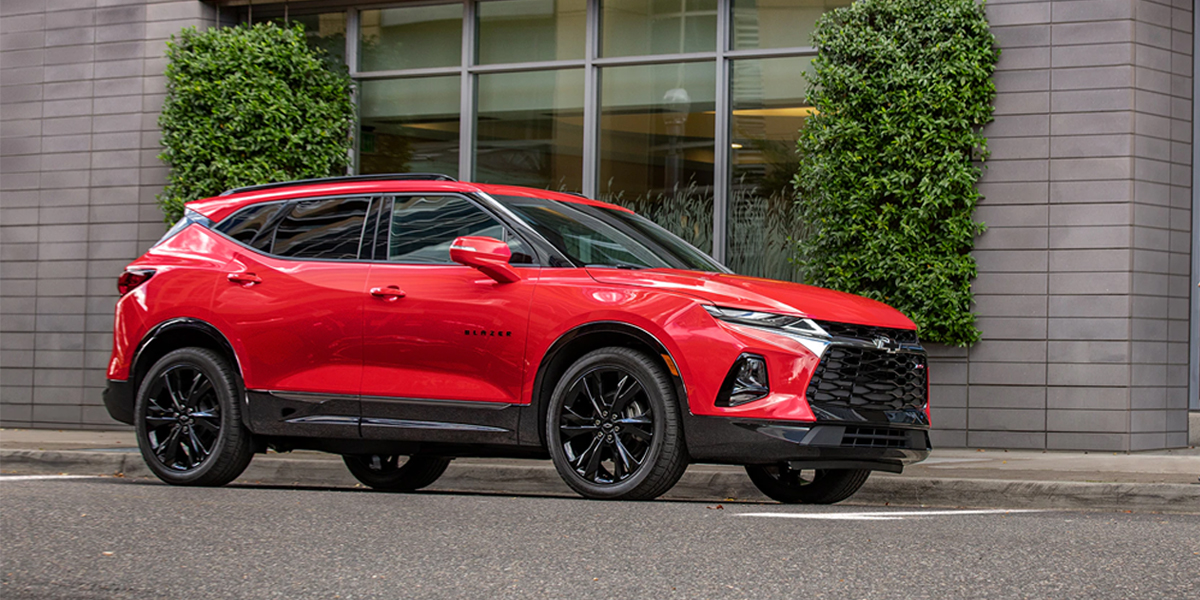 Technology & Safety – 2020 Chevrolet Blazer
The base model L Blazer gets an 8-inch touchscreen infotainment system right off the bat to make sure that everyone is comfortable in their own time period here. Even though the Blazer has been gone awhile, it was a quick learner about technology. Your hotspot, 4G connectivity, Apple CarPlay and Android Auto compatibility, and Bluetooth technology all combine together to give you a full featured array of tech that won't leave you wanting for anything. An eight-speaker Bose system also gives you a beautiful soundtrack to appreciate while you're out there making memories in your Blazer.
It wouldn't be a Chevy vehicle unless it had a fantastic number of safety features to make your driving experience safer and more pleasurable. You'll enjoy all of your latest driver-assist features on the Blazer, especially on higher trims. Chevy gives you the confidence of a 360 degree rearview backup camera as part of a comprehensive safety package. They also give you features like lane departure warning and mitigation, forward collision alert with automatic emergency braking, and the ever popular blind spot monitoring systems we all wish were on more vehicles. What we noticed most is that Chevy doesn't just give your Blazer the ability to alert you that a disaster is coming. It equips your Blazer with the intelligence and tools to stop that disaster in the form of steering and braking adjustments. That's a safety system you can feel good about.
Trim Levels – 2020 Chevrolet Blazer
The four trim lineup of the Blazer – L, LT, RS and Premier – nicely organizes your Blazer's strengths into four parts that you can easily choose from and get the best deal for. As always, it's only a deal if you love everything you pay for. Chevrolet constructed the Blazer trim lineup to give you great value.
Request 2020 Chevrolet Blazer Specials in Chino near Glendora, Inland Empire CA
If you are a fan of the Blazer, it's time to get serious about buying one of these beasts this year. You're going to love the refinement and power of this new creation. Mid-size crossover lovers will find a host of reasons to own the Blazer this year, but the best reason is that it's one of the finest vehicles in its class (and some would argue the best). Our dealership is ready to give you a great deal on a 2020 Chevrolet Blazer. When you're ready to test drive it, just give us a call to schedule.