New Chevrolet 2020 Chevrolet Colorado Lease and Specials near Inland Empire CA for Sale in Chino, CA
2020 Chevrolet Colorado Lease and Specials near Inland Empire CA

*Not actual vehicle
2020 Chevrolet Colorado Lease Specials and Finance Offers in Chino CA – near Glendora, Inland Empire
Why Buy or Lease 2020 Chevrolet Colorado near Inland Empire CA
The sleek, smooth style of the Colorado is well-known among pickup truck lovers, but it seems to manage to continue improving even when it seems perfect. The new 2020 Colorado is one smart pickup truck, with a brand new feature that even lets you remotely lock your tailgate. It's not just a functional workhorse either. This truck is really demonstrating a rough and rugged refinement that we haven't quite seen it do this well before. Your 2020 Chevrolet Colorado is the best yet. This is why.
*Not actual vehicle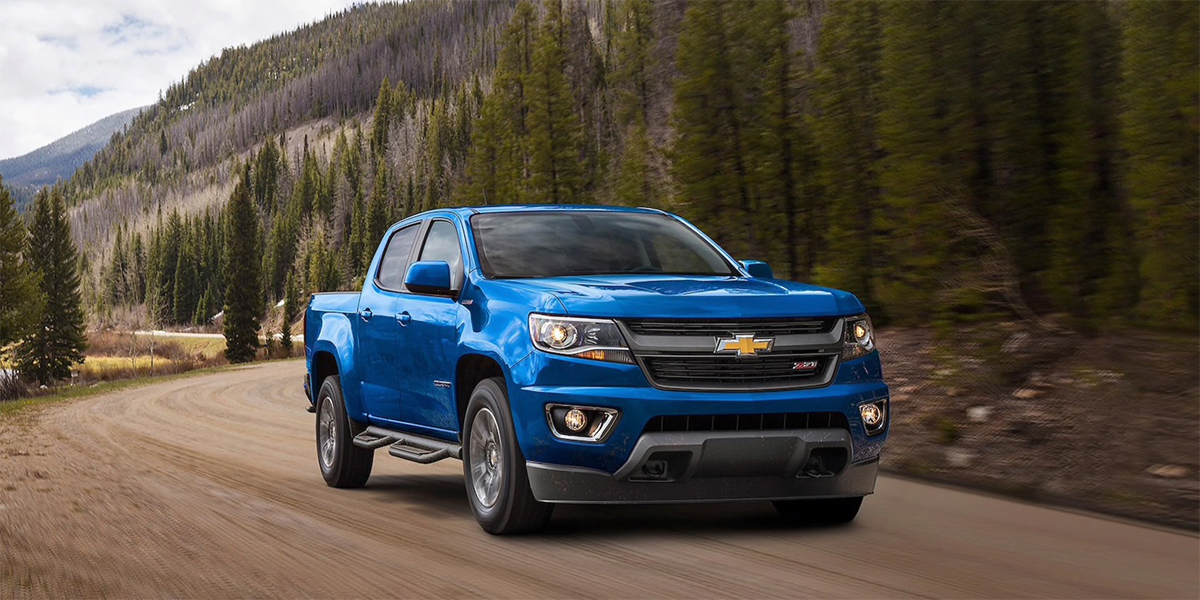 Exterior – Chevrolet Colorado
The Colorado looks just like it drives: smooth and straightforward. Its excellent steering is something the orderly design hints at. With strong lines and a few optimally placed flashes of style, the 2020 Colorado makes itself one of the loudest pickup trucks on the road. It's one of those trucks you stop to stare at. Its strength is evident in its LED headlights that shine bright and clear, its large wheel options, and even a trim with all-terrain tires that suggest it might be time for some off-roading in your off time. You won't find a more handsome truck than this.
*Not actual vehicle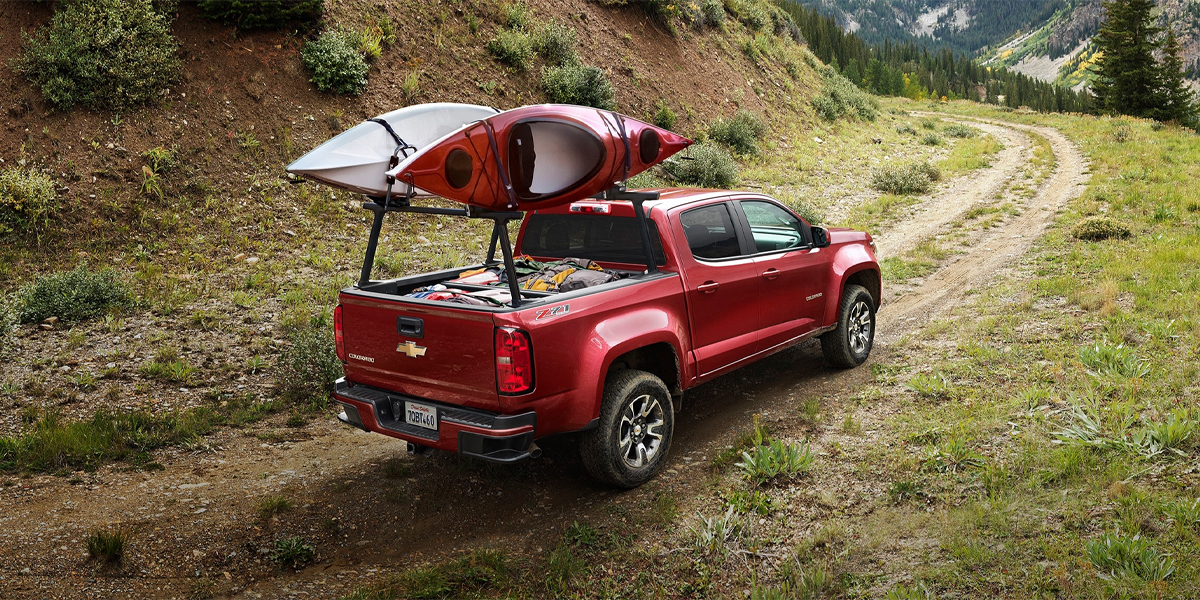 Interior – 2020 Chevrolet Colorado
Even tough guys can have a soft interior, and that's exactly what the Colorado has. While its interior features outdoorsman colors and real wood accents that are well-placed, you'll also find soft touches like leather upholstery, advanced technology, and head and legroom that are easy on even the tallest of drivers. The steering wheel is comfortable to grip and comes leather-wrapped on some trims. Having a cold day of work? You'll love the heated seats; on those hot days, it's time for ventilated seats. Whatever you need the interior of the Colorado to be, it can do that. The base model is excellent at conveying old world charm, while the ZR2 is all business on off-roading toughness. It's a truck with many faces.
*Not actual vehicle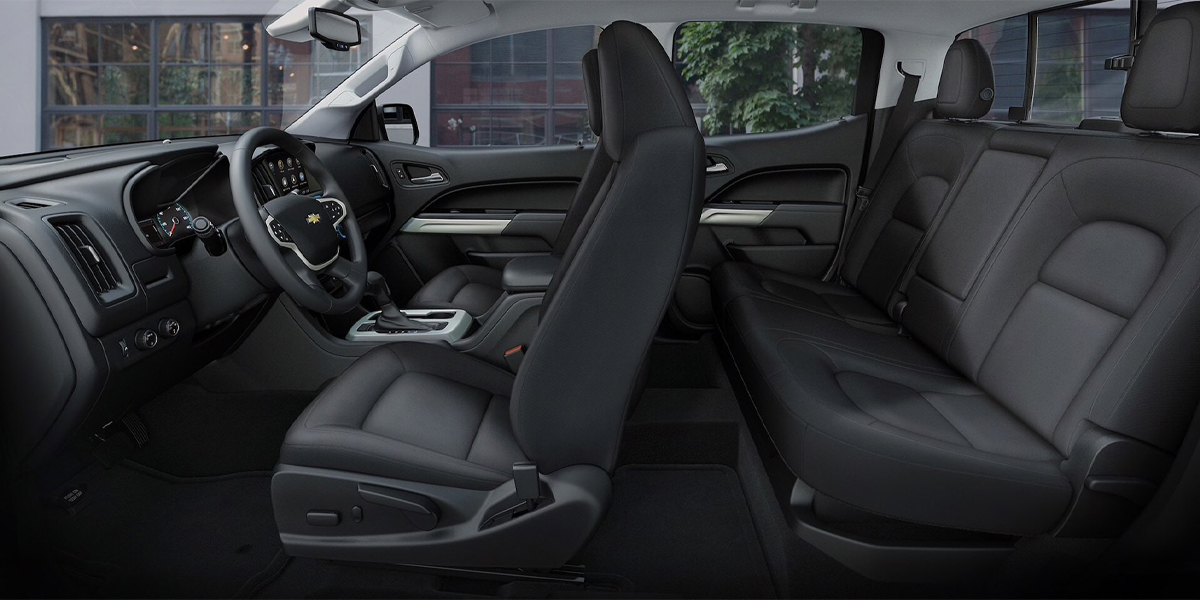 Mechanical – 2020 Chevrolet Colorado
The base model's 200 horsepower 2.5-liter inline four-cylinder engine offers a lot of horsepower for a very nice price. You get the kind of pulling power you might expect off of a light duty that doesn't have a lot of duties. After all, there's more than one reason to buy a Colorado, and sometimes you really do just want the attractive style and comfortable interior. If you demand more power than that, though, you'll find the V6 engine option to be very accommodating. It's 308 horsepower and 275 lbs-ft of torque offer folks with a job to do all the power they need to do it. A 6-speed automatic transmission gives you a healthy acceleration and excellent handling experience with a lot of control over your power. The ZR1 and ZR2 are your off-road trims, and we'd be doing them a disservice if we didn't mention that they have all-terrain tires, locking rear differential, and off-road tuned suspension. You can confidently hit the trails in your Colorado this year, and if you want a little extra luxury, that's going to be there, too, as these are your fully loaded trims.
*Not actual vehicle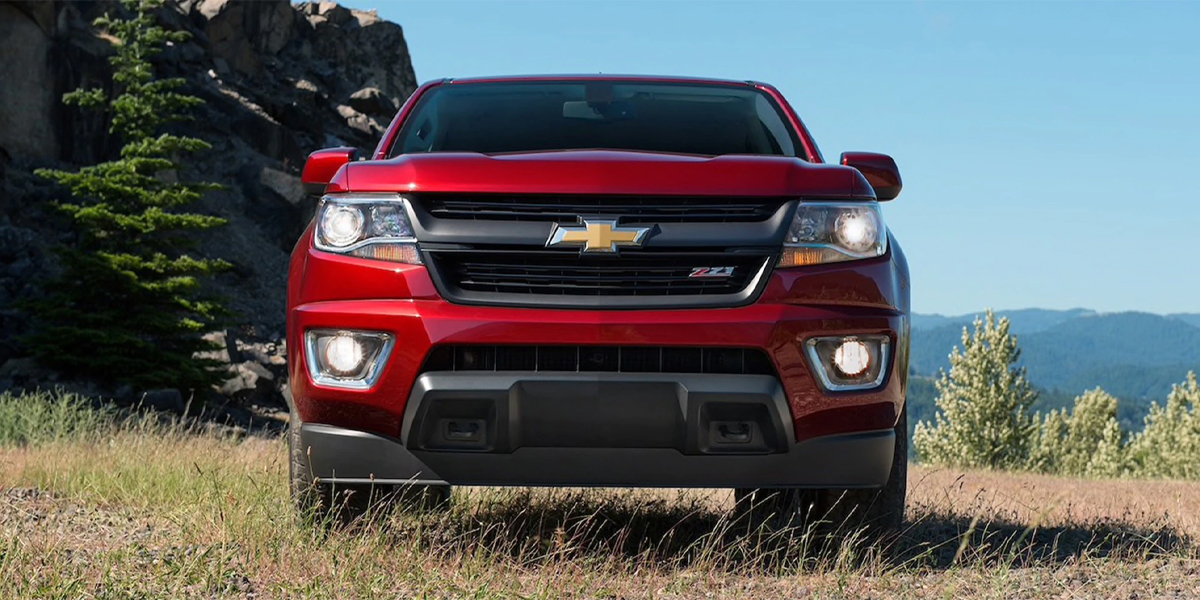 Technology & Safety – 2020 Chevrolet Colorado
You've got some nice tech options on the Colorado this year. Chevy opted for a 7″ touchscreen for the base model this year, but higher trims earn an excellent and useful 8″ touchscreen that really helps with camera angles and increasing your control over your Colorado's exterior. It's great for parking and trailering. Bluetooth and 4G connectivity finally hits the Colorado, too, and it's a welcome group of features. The new tech savvy look on the Colorado is one that suits it very well. While you want to budget when you're buying this truck, you also want the added convenience of your connectivity tech. Chevy gives you that option this year. And if you don't want added tech, it's easy to select a trim that's more old school Colorado.
Driver-assist features get a massive boost this year with many optional features from 2019 carrying over into standard features in 2020. You'll enjoy lane departure systems and forward collision warnings, along with a high strength frame build that keeps you safe and sound against the threats of the road. You can always feel confident driving your Colorado, and best of all, you're not paying inflated prices for well-established driver-assist features. You're getting these features standard on many trims without having to buy an expensive add-on package.
Trim Levels – 2020 Chevrolet Colorado
Ready to get serious about owning a 2020 Colorado? Check out its trims:
Base
Work Truck (WT)
LT
Z71
ZR2
The basics are covered nicely on the base and WT, while the LT is a perfect middle sibling, and the ZR1 and ZR2 offer top notch luxury and off-road expertise.
Request 2020 Chevrolet Colorado Specials in Chino near Glendora, Inland Empire CA
The Colorado's popularity continues in 2020 as it grows up to include more technology and driver-assist features. Best of all, Chevrolet managed to keep the pricing reasonable for a truck that offers so much luxury and capability. You're going to appreciate the many gifts that the Chevy Colorado has to offer you this year. All that's left to do now is decide which Colorado you want to drive home in! If you'd like a quote or to apply for financing, you can give us a call to get started or use our handy website features. If you're a more "in person" person, you are welcome to stop by our dealership in Inland Empire CA any time to see a brand new Colorado.