Reserve 2024 Chevrolet Silverado EV – Inland Empire for Sale in Chino, CA
Reserve 2024 Chevrolet Silverado EV – Inland Empire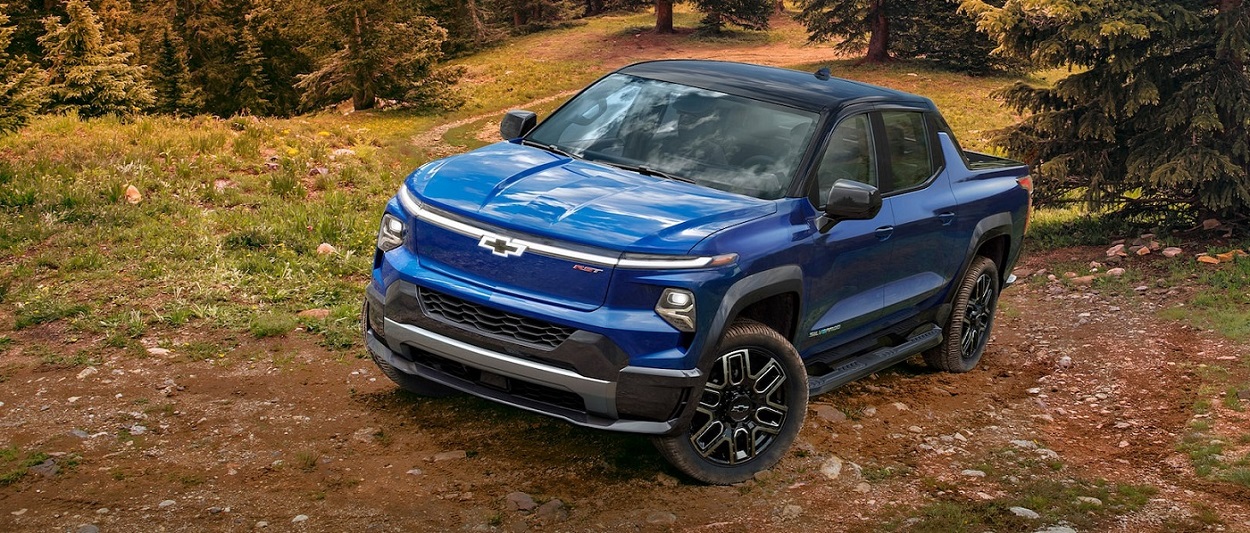 View Inventory
Make way for the very first all-electric Silverado. As Chevy says, there's no more "what if" this year. The next question is, "What's next?" The higher-sitting truckbed of the 2024 Chevrolet Silverado EV is just one change that's coming to the electric version of the truck in the Inland Empire California. Learn all about the model here today from M K Smith Chevrolet and get your chance to reserve the 2024 Chevrolet Silverado EV for yourself before it arrives. This one will go quick and have limited availability, so don't wait to reserve!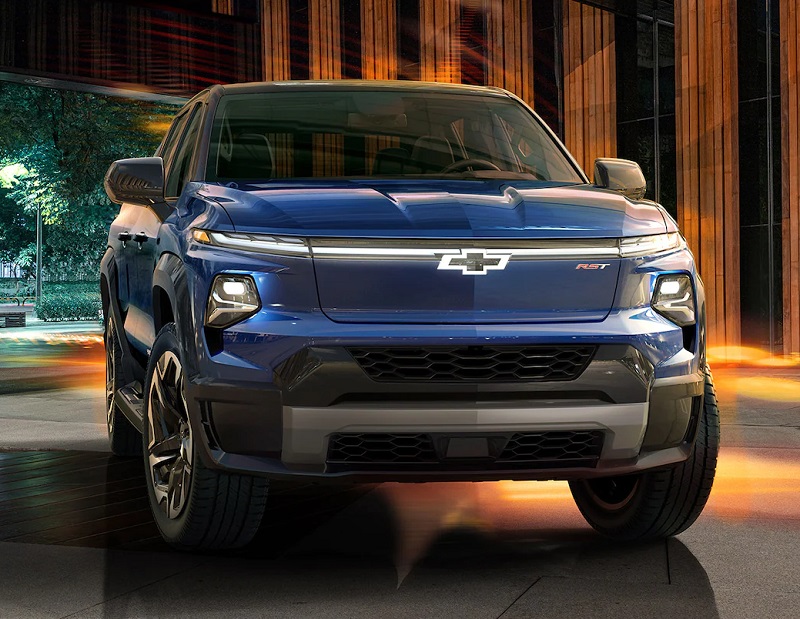 Exterior – Chevrolet Dealer serving Inland Empire
The body-color grille is capped off by a full LED lighting strip above this year, with LED fog lamps below in a more traditional headlamp design. The bottom bumper has your traditional grille chain-link design with a chrome bumper spanning across that really emphasizes the bottom black front and right bumper accents. The tall stance of this truck is unlike any other Silverado in history and is a tribute to Chevrolet's courage to commit to the future. A shorter truck bed is also deeper, with a height that'll instantly make this one recognizable on sight. When you reserve the 2024 Chevrolet Silverado EV, you'll probably do so because you get a peek at it. This is a beast of a truck that's going to be a hall-of-famer to the people in the Inland Empire California area.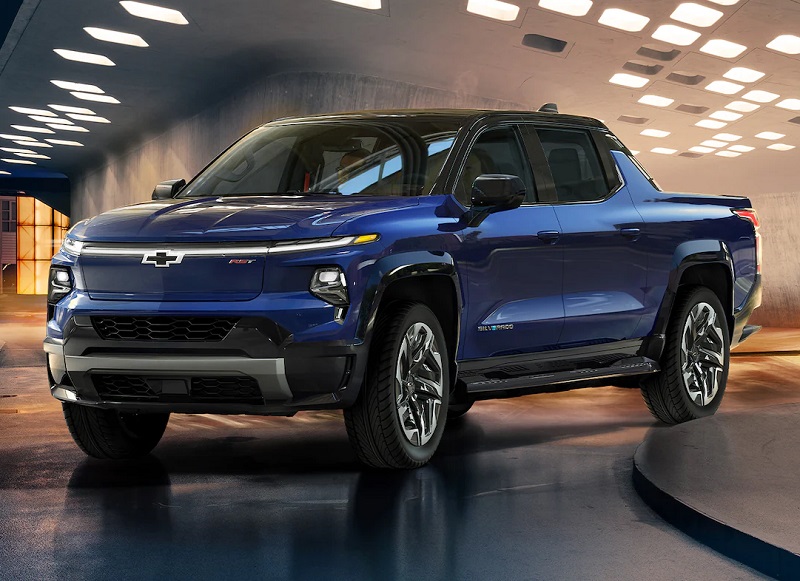 Called a "category-defying, boundary-breaking game changer" by the Chevrolet brand, this truck has more interior features than we can even find time to boast about today. To set off the right mood in the cabin, Chevrolet designed a panoramic fixed-glass roof that creates a wide open feel of sunshine and freedom. It boasts the largest interior truck touchscreen in the world: a beast of a 17-inch diagonal free-form screen that puts your entire connected world on a pedestal in front of you in vibrant, desktop color. To replace the transmission shifter that this truck doesn't n eed, you'll find a huge center console in this area that gives you two levels of storage capacity in the front seat. Stay tuned for more information from M K Smith Chevrolet about the materials the truck will get for its seating, door panels, and dash. Information is still oncoming each day.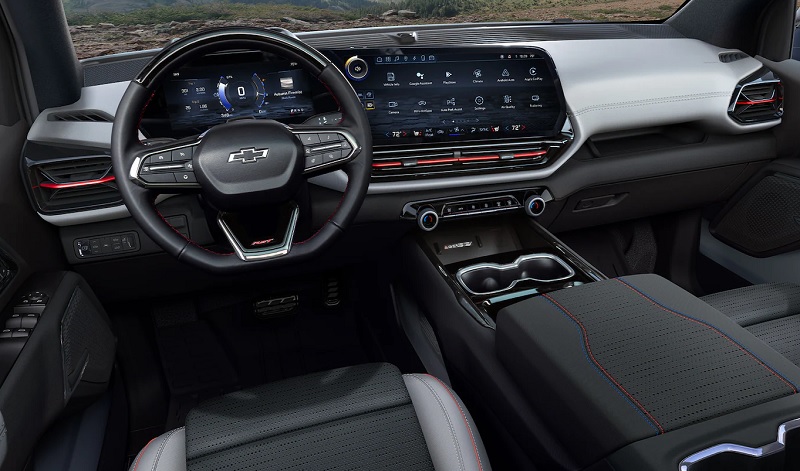 Chevrolet Silverado EV Mechanical specs
The estimated and assumed range – for now – is a 400 mile range on a full charge. The model's 4.5 second 0 to 60 time is a truly breathtaking prospect for anyone who's ever wanted a "race truck." You'll find yourself free to span the miles with confidence, all at a pace that puts most high-performance luxury cars to shame. It's a truck that can cross the finish line first in almost every case.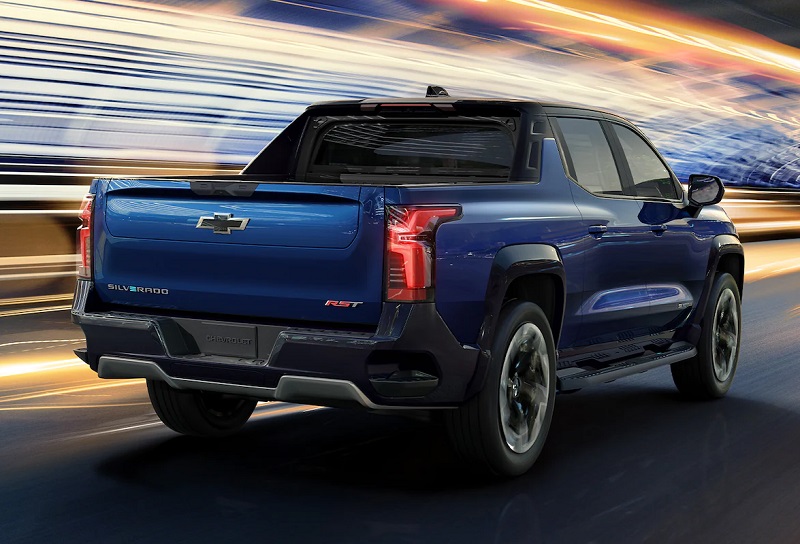 Powertrain – Chevrolet Dealership near Inland Empire
The design of an EV leaves a full trunk in the front of the model. Throw in any of your tools and shopping hauls. There's plenty of room. The model's 660 horsepower (with Wide Open Watts) and more than 780 lb-ft of torque (with Wide Open Watts) is going to be the most powerful Silverado ever made in history and more than enough to outpace most high-performance sports cars in the world. This is a truck that's track ready.
Safety – 2024 Chevrolet Silverado EV dealer
A high-performance electric truck is going to have an amazing array of safety features on the menu, but for now, Chevrolet has rightfully chosen to reveal a little bit at a time. Waiting is half the fun for these things. For now, confirmed driver-assist features include standard Automatic Emergency Braking, Lane Keep Assist with Lane Departure Warning, and Forward Collision Alert. The truck's build makes it a lot more safe than any other truck in the class as well. For now, we know that it'll have Four-Corner Air Ride adaptive suspension systems that keep you stable even when you're out there in the harshest of terrains. Exploring the world in the Silverado EV is a monumental experience and a safe one.
Reserve the 2024 Chevrolet Silverado EV at M K Chevrolet Smith today. Our sales team will be happy to assist you with learning more about full features. With limited time, we could only cover the basics today, but there's so much more to learn and new information coming out each day. Write or call for details.