Certified Service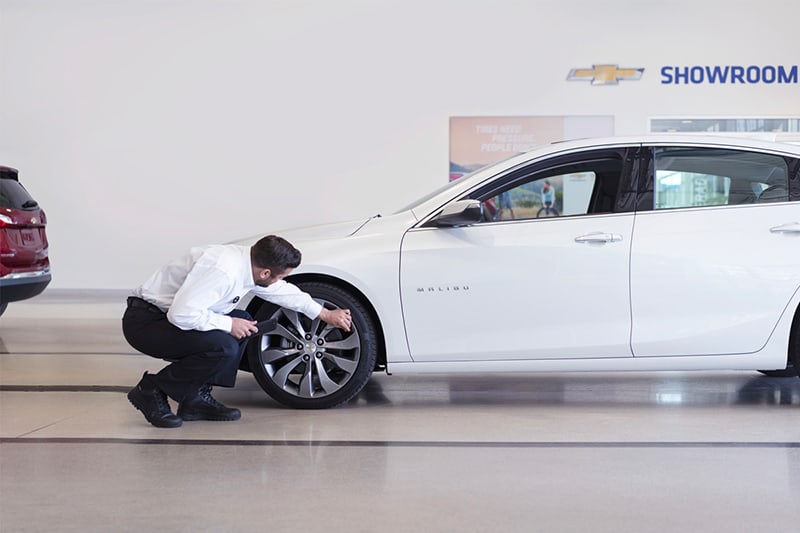 Service Offers and Pricing
We offer competitive prices on popular vehicle services such as oil changes, brakes, and tires.
Maintenance
Need New Tires?
Your vehicle's tires are the first and only contact with the road, so it is important to choose the right set when replacing them. M. K. Smith Chevrolet has Certified Service experts that will handle all of your tire needs. From checking tire wear to tire pressure our team can help you find new tires for your vehicle.
Find Tires
Need An Oil Change Near Chino?
Your vehicle may be trying to tell you something – Oil Life Monitoring Systems let you know when it's time for an oil change. And our Certified Service experts can recommend what's best for your vehicle. Schedule an appointment today.
Learn More
Multi-Point Vehicle Inspection
With your Multi-Point Vehicle Inspection, you get a thorough assessment of your vehicle by the Certified Service experts. So protect yourself and your automotive investment with a comprehensive vehicle inspection at your M. K. Smith Chevrolet Dealer today.
The Multi-Point Vehicle Inspection form uses a simple color-coded key to assess maintenance terms:
Red indicates items that need immediate attention.
Yellow indicates items that should be addressed in the near future.
Green indicates no items to address.
Hearing Brake Noise?
Stopping power is crucial to a safe and successful driving experience. When you need brake service, visit M. K. Smith Chevrolet and our GM Certified Service experts will recommend quality new brakes.
Learn More
Battery Trouble?
Your vehicle's battery provides energy to start the engine, plus it supplies power to accessories when the engine is not running. The cold of winter and the heat of summer can affect your auto battery. See us for your vehicle's battery needs.
Learn More
Contact Service
Service: (909) 680-3856
Parts: (909) 628-8961
12845 Central Ave, Chino, CA 91710
Chevrolet Service in Chino CA - Chevy Repair Inland Empire
M K Smith Chevrolet is the local Chevrolet dealership serving Chino Inland Empire Riverside Ontario and the neighboring communities. We were founded in 1941, which means that we have more than 80 years of experience serving this region. Chevrolet drivers throughout the area trust our expertise and our integrity, and they count on our M K Smith Chevrolet service center for certified Chevrolet service and repair. That includes everything from routine maintenance to advanced diagnostics and repairs.
Certified Chevrolet Service in Chino
Choose M K Smith Chevrolet for certified Chevrolet service in Chino because our automotive technicians are factory trained. They have extensive experience with Chevrolet vehicles and know your particular model inside and out. Our team handles all Chevrolet warranty and recall work. We're also a certified Chevrolet service center, which means that all of the work that we perform is done in accordance with the specific guidelines from Chevrolet for that particular model.
Multipoint Inspections
The best way to maintain your Chevrolet vehicle in peak condition and extend its life is through regular service. Our M K Smith Chevrolet service center serving Chino Inland Empire Riverside Ontario encourages you to bring your vehicle in for a multipoint inspection twice a year. We'll perform a thorough assessment of your vehicle and alert you to any preventive repairs that will keep you safe and save you money in the end. We can also carry out all routine maintenance, including oil changes, fluid top off, windshield wiper replacement, battery replacement and so forth.
Chevrolet Parts Department
We only use genuine OEM parts and materials for all Chevrolet service in Chino. In order to maintain that standard, we need to carry an extensive inventory of Chevrolet parts. Our location also sells those parts direct to our customers. If you need a part, we likely have it in stock, but we provide you full access to the Chevrolet catalog and can order parts for you at no additional charge. You can also purchase Chevrolet accessories and performance parts from us, and if you want them professionally installed, we have technicians available to do that for you.
Tire Store
Our Chevrolet service and repair facilities also include a tire store where we maintain an extensive inventory of tires from all of the leading brands, such as Goodyear and BFGoodrich. Bring your vehicle in for a tire inspection. Our tire experts will ensure good tire condition. We can also adjust tire pressure, rotate your tires and align and balance your wheels, and if you need a new set of tires, our tire price match guarantee ensures that you get the best possible deal.
Service Pricing and Specials
Count on us for everyday low pricing for Chevrolet service in Chino, but be sure to check out our website for our current specials. We often have coupons, rebates and other offers that will help you save even more, and there are specials not only four our services but parts, accessories and more.
Service Financing
We understand that unexpected Chevrolet service and repair can sometimes be difficult to budget. For this reason, we offer service financing. You can even get approved online in seconds with no hard credit check. We approve more than 90% of customers who apply for service financing. Once approved, you can get the service you need now and then pay us back for that service over time.
Schedule a Service Appointment
The easiest way to schedule Chevrolet service and repair with our M K Smith Chevrolet service center is online through our website, which you can do any time of day or night. You can also schedule by phone during our standard business hours, and if you call or email our service center serving Chino Inland Empire Riverside Ontario, we're happy to answer any questions that you may have.